---
Information about the Society, events and ovens

---
- The Finnish Tiled Oven Heritage Society was founded in September, 2000.
-The Society is based on The island fortress of Suomenlinna (Viborg) to which the overseer of the construction of the fortress, Count Ehrenswärd, brought Helsinki′s first tiled ovens, in his coffers on his journey from Sweden.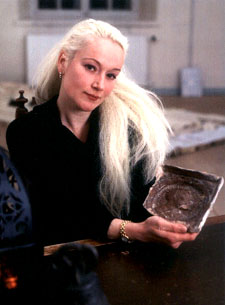 ---



The founding members of the Society in the year 2000:

- The chairwoman is Maritta Tolvanen. Maritta has planned, put together and financed the Society′s exhibitions. Beginning 2002, together with Camilla Ståhlen and Carl Irjala, she has been part of an expert team.

In the photograph, she is holding an old tile, found, well preserved, during excavations at Turku Castle. The tile depicts a man and the text in German reads: Herzog-Hans-Frid-Rich-Kurfürst. The tile is probably from the 16th century.

-The Secretary of the Society is A-P Mustonen from Helsinki.

Uki Niemeläinen, a building contractor from Liperi, a man who has dismantled about three hundred ovens,

Specialized masons Heikki Koskinen and Hannu Uksjärvi from Pori,

Erkki Kallonen, a skilled virtuoso who has dismantled over six hundred tiled ovens in and around the Capital.
---
Joining the Society in the year 2001 were:
Renovators Jorma Pulla from Vihti (In 2003, Jorma Pulla was awarded The Engel-Award for church art on behalf of his achievements on renovation works to over 300 buildings since 1969) and
Camilla Ståhle, a ceramist from Kemiö
Carl Irjala, a tiled oven expert, author, chimney expert and mason
Heikki O. Suikki, an artistic blacksmith and fabricator of oven doors,
Specialized masons Matti Räisänen and Pekka Alajoki, , who also fabricates contemporary tiled ovens and
Antero Raita, a dismantler of tiled ovens and Director of a construction bank from Pori and
Reino Kirjavainen, a tiled oven expert from Vantaa.
Jorma Veikkolainen a mason from Pernaja (see the building magazine ÔRakennuslehtiŐ, no. 3 March 2003),
The ceramist Catharina Kajander (40 year/retrospective exhibition 2000 - 1918 at Hanko, March 2003)
---
Associate members for the year 2002:
Specialized masons Jussi Salonen from Laitila, Jari Tamminen from Naantali,
Britt-Marie Smeds, a ceramic artist from the Taalin Factory in Kemiö.
---
The Society has organized two exhibitions of old tiled ovens in Olkkala and Suomenlinna.
The article "For the respect of old tiled ovens" about tiled ovens, January 2003, in Meidän Talo-lehti (Our House magazine), and March 2003 in Rakennus-lehti (Building magazine) an article about the Society and the mason, Jorma Veikkolainen.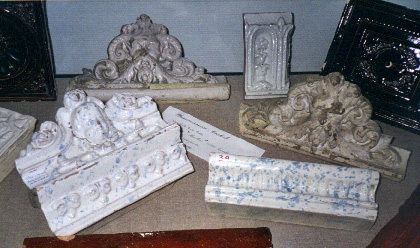 The aim of the Heritage Society is to bring artists from the same field together, into congenial company. Everyone can learn something new when knowledge and ideas are exchanged. Members convene two or three times a year with one of the members acting as organizer.
The Society is not, then, a national organization open to all, rather it is a society of experts enlightening each other.
---